Ben & Brad - The World War I Centenary in Song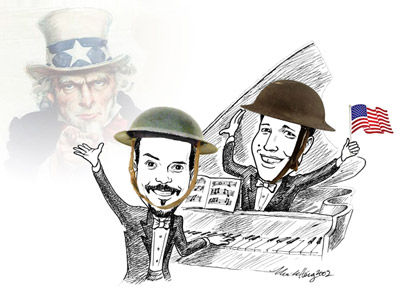 Ben & Brad will be joining the four year commemoration of World War I with concerts and lecture/demonstrations of the songs that got us through the war.
For the 2014-2018 World War I Centenary years, Ben & Brad are offering two programs:
Irving Berlin's Insomnia
Sleeplessness led to a hit song and a hit Army show by Irving Berlin. Ben & Brad will give the history of Berlin's Yip! Yip! Yaphank! with performances of songs from the show such as "Oh How I Hate to Get Up in the Morning" and "We're on Our Way to France," along with other songs Berlin wrote for the war effort.
Over There
The songs that won the war!
"Over There"
"Good Bye Broadway, Hello France"
"Wake Up, America"
"Sister Susie's Sewing Shirts for Soldiers"
"How Ya Gonna Keep 'Em Down on the Farm?"
"There's a Long, Long Trail"
"I Didn't Raise My Boy to Be a Soldier"
"Lafayette (We Hear You Calling"
"Let's Bury the Hatchet"
"Roses of Picardy"
"It's A Long Way to Tipperary "
And more!!
Please see poster (pdf, 1.3MB) for more information