Ben & Brad - The Smart Set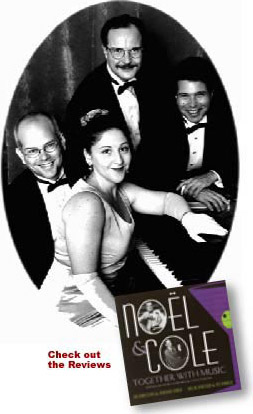 The Smart Set was created in 1999, when Ben & Brad teamed up with another of Boston's leading voice & piano duos, Valerie Anastasio & Tim Harbold, to create a show saluting the centenary of Sir Noël Coward. The show was Noël & Cole - Together With Music. After the success of Noël & Cole, they devised a new show, Fred & Ethel - Great Songs of Astaire and Merman, which was nominated for an IRNE (Independent Reviewers of New England) Award in the Cabaret category for the 2000-2001 season.
Noël & Cole - Together With Music has toured throughout New England, including the Levitt Pavilion (Westport, Connecticut), the Worcester Light Opera Company, the Chatham Drama Guild (debut in 1999 and a special return engagement in 2000), Stage Front (Machias, Maine), Williams College (Williamstown, Massachusetts), two sold-out appearances at Scullers Jazz Club in Boston, and a sold-out performance at Don't Tell Mama in New York. In March, 2000, it was recorded by Oakton Recordings and released in September of that year. The IRNE-nominated Fred & Ethel premiered at the Chatham Drama Guild in August, 2001, followed by a sold-out performance at Scullers Jazz Club in Boston.
"Scullers was the only place to be. The gorgeous night sparkled as we sat bathed in candlelight overlooking the city - and the music cooked! When they do Fred and Ethel again don't miss it. You'll be tickled pink." (Beverly Creasey, Theatre Mirror)
"This star-kissed pairing of pairs has made a foursome that seems destined to remain a team. You have a formula for a madcap evening of vaudeville and old-fashioned crooning that remind us what a great legacy we have inherited in the Great American Songbook. In the hands of this foursome Fred & Ethel is a flawlessly constructed show. All four performers were able to shine in this program." (John Amodeo, Bay Windows)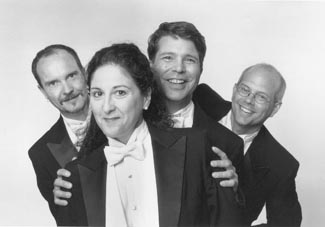 "Fred & Ethel is a spine-tingling tribute. Singers Valerie Anastasio and Benjamin Sears are more than capable of pulling it off. They both have strong, beautiful voices that send shivers up your spine. Accompanists Tim Harbold and Bradford Conner are equally brilliant on piano. It can't be stressed how wonderful the musical interpretations are. This is probably the best musical theatre this reviewer has heard on the Cape this season." (Rebecca M. Alvin, The Cape Codder)
"This intimate revue, based on the familiar (and unfamiliar) songs introduced or associated with F&E, is a gem. Four cabaret artists - Valerie Anastasio, Bradford Conner, Tim Harbold and Benjamin Sears - have distilled an enormous amount of material in close to two hours, leaving the audience enchanted. And eager for more. These four performers remind us that America's musical heritage is more then rock and disco, that there was a time not so long ago when style, talent, sincerity and wit were important." (Alan W. Petrucelli, Barnstable Patriot)
All [the] elements [of Coward and Porter] were conveyed with musical skill and good spirit by the four performers. As soon as they started singing you knew you were in for a good evening." (Richard Duckett, Worcester Telegram & Gazette)
"...Two dynamic cabaret duos, who separately are sensational, but together are unstoppable. What a swell party indeed!" (Beverly Creasey, Theater Mirror)
"The four performers obviously love the music of Noël Coward and Cole Porter, and their enthusiasm is infectious." (Phyllis Gordon Koppel, Cape Cod Chronicle)
"Afficianados of Noël Coward and Cole Porter are in for a treat with Noël & Cole - Together With Music. The show is ably performed by two Boston duos who have blended their talents." (Johanna Crosby, Cape Cod Times)
Meet our Collaborators:
Valerie Anastasio and Tim Harbold have performed cabaret music throughout Massachusetts since 1990, blending jazz standards, show tunes, and comic cabaret with their own distinctive musicianship and humor. Their repertoire encompasses a delightful variety of styles, ranging from intimate renditions of Gershwin and Sondheim to zany, crowd-pleasing performances of Cole Porter's The Physician and Barry Manilow's Copacabana. Recently, the duo have been featured in the Cabaret Connection Series at the Cambridge Center for Adult Education, the summer concert series at the Federal Reserve Bank of Boston, in a show with Benjamin Sears and Bradford Conner at the Stageloft Repertory Theatre, and on the cover of the Boston Globe Calendar section.
Valerie Anastaio has studied with Helen Boatwright, Terrence Dwyer, D'Anna Fortunato, and Robert Honeysucker. She is featured on the October 1999 Albany Records release Saving Daylight Time: New American Songs (Troy 343), pieces that blend folk and art song, with poetry by Lloyd Schwartz and TenBroeck Davison and music by David Patterson. Anastasio is soprano soloist with the Seraphim Singers, a chamber choir devoted to performing liturgical works in sacred spaces in Boston and surrounding area.
Tim Harbold is an Assistant Professor of Music at Wheaton College, where he conducts the Wheaton Chorale and teaches courses in Choral Conducting and MIDI applications. In addition, he is the Director of Choral Activities at the University of Massachusetts Dartmouth, conducting the UMD Chorus, the UMD Spinners, and the UMD Gospel Choir. Harbold received his B.A. from Williams College, and his Masters degree from New England Conservatory, where he studied conducting with Tamara Brooks. While at New England Conservatory, he also served as Assistant Conductor for the Conservatory Camerata, under Lorna Cooke de Varon.

Reviews of Together With Music
"I know that [Coward] gave us many definitive recordings of his own work, but it is refreshing to hear others giving us those fine words and melodies. So, I listened to this CD with a lot of interest. I thought it very good indeed. The songs are sung with respect for the music, they are not over-arranged. Yet they are modern and fresh, not stilted period pieces." (Gareth Pike, Noël Coward Society)
"Benjamin Sears & Bradford Conner, in their skilled, all-out, in-the-shower manner, with the added pleasures of Valerie Anastasio & Tim Harbold, take on [Noël Coward and Cole Porter], with each getting half of the 18-song program. A charming, enthusiastic pairing of two songwriters whose like, unfortunately, the musical theatre will never produce again." (Irv Lichtman, Billboard)
"Two of Boston's favorite song duos perform 21 songs. They are all choice, but the Party Medley is especially well constructed." (New York Sheet Music Society Newsletter)
"A high spirited, feel-good CD performed flawlessly by two favorite Boston-based song duos, Valerie Anastasio & Tim Harbold and Benjamin Sears & Bradford Conner. The high standards met by the performers and producers of the CD make Noël & Cole quite marvelous. I cannot recommend it too highly!" (Wendy Kupferman, Cabaret.org)
NOËL COWARD
Known as "The Master", Noël Coward, born in London in 1899, was a playwright, songwriter, actor, director, and producer throughout a long career that began as child actor and continued into the 1970s. He came to major fame with his 1924 play The Vortex in which he starred as a drug addict, a subject which shocked London. As a child and young adult, Coward performed with Gertrude Lawrence, later writing two vehicles for himself and "Gert", Private Lives and Tonight at 8:30. Other plays by Coward include Blithe Spirit and Hay Fever; and amongst his musicals are Bitter Sweet, Conversation Piece, and Operette. During the war Coward endeared himself to his countrymen with the film In Which We Serve, which contributed greatly to morale-building. In the 1950s he set out on a "second career" as a successful cabaret performer, bringing his songs to chic audiences at London's Cafe de Paris and in Las Vegas. He was belatedly knighted in 1970, and died in Jamaica in 1973.
COLE PORTER
One of the most sophisticated American songwriting wits, Cole Porter was born in the small town of Peru, Indiana, in 1891. Grandson of the town's wealthiest citizen, Porter had a pampered, privileged childhood which included Worcester Academy (Worcester, Massachasuetts), undergraduate studies at Yale, and a year at Harvard Law School. His early adult years were spent as a socialite, traveling about Europe, where he lived in Paris and Venice until the First World War forced him back to the United States. His lifelong love of songwriting eventually took him to Broadway, his first success coming in 1929 with Fifty Million Frenchmen. His hit shows included The Gay Divorcée, Anything Goes, and Red, Hot and Blue; amongst his film scores are Born to Dance and High Society. A horseriding accident in 1937 did nothing to slow down his career, though it put him in life-long physical discomfort and led to many operations on his legs in futile attempts to repair the damage. Considered a has-been, he scored a great success with the musical now called his finest show, Kiss Me Kate, in 1948. He continued writing shows through the 50s, and his final score was for a TV special, Alladin, in 1958. Porter died in 1964 in Santa Monica, California.
FRED ASTAIRE
Fred Astaire (1899-1987) got his start as a youngster in Omaha, Nebraska, partnering his older sister Adele. Their mother moved them to New York, where they quickly became stars. His friendship with George Gershwin led to two Broadway shows for Fred and Adele, Lady, Be Good! and Funny Face, then two Hollywood scores, Shall We Dance and A Damsel in Distress. After Adele's retirement, Fred appeared in Cole Porter's Gay Divorce on Broadway, then went to Hollywood, where his second film, Flying Down to Rio, joined him with Ginger Rogers. Fred's years of dancing with Adele made him the perfect partner, and his Hollywood career found him with quite a few: Rogers, Eleanor Powell, Judy Garland, Rita Hayworth, Vera Ellen, Cyd Charisse, Gene Kelly, George Murphy, Bing Crosby, and even George Burns & Gracie Allen. He attempted retirement a number of times, only to be lured back, with the results being such Astaire classics as Easter Parade. When Astaire finally retired from Hollywood musicals (he made some non-musical films late in his career) he did a series of acclaimed television specials, dancing with Barrie Chase.
ETHEL MERMAN
Ethel Merman (1908-1984) was a New Yorker, born and brought up in Queens. Early on she discovered her love for singing and took every chance to perform, eventually landing small rôles on Broadway. The Gershwins were as good to her as they were for Astaire, providing her first big break in Girl Crazy with the songs "Sam and Delilah" and "I Got Rhythm," which became a Merman standard. Merman's larger-than-life style and preference for staying in New York (she never toured with her shows) hampered her Hollywood career. Broadway, however, could not get enough of her, with Cole Porter writing five shows for her, including Anything Goes, along with two big hits by Irving Berlin, Annie Get Your Gun and Call Me Madam. Merman worked with many stars on both coasts, including Bing Crosby, Bert Lahr, Jimmy Durante, Ginger Rogers, Bob Hope, Marilyn Monroe, Donald O'Connor, and Jerry Orbach. She had belated Hollywood success in the 50s and 60s with the film version of Call Me Madam and the non-musical It's a Mad, Mad, Mad, Mad World. Merman never really slowed down, with concert and television appearances taking up her later years.
---