Ben & Brad - In the Media
Ben & Brad have written program notes for all of their CD releases. These notes have been praised as "impeccable, reflecting the conscientious scholarship which turns up the previously unrecorded material which appears on all their discs" (Sonneck Society Bulletin).
The Irving Berlin Reader, a collection of writings about Berlin's life and career, compiled and edited by Ben, was published in March 2012 by Oxford University Press. Brad will also be editing the new edition of Alec Wilder's American Popular Song, 1900-1950, including first printings of the musical excerpts for the Irving Berlin chapter.
Ben & Brad, with the Harburg Foundation of New York City, created a compilation of the complete lyrics of "Yip" Harburg for a data base and future publication.
For Sheet Music Magazine, Ben & Brad wrote an article on their rediscovery of Irving Berlin's long-lost "Santa Claus: A Syncopated Christmas Song" (along with providing the song for reprint). Ben & Brad also wrote about the Howard Dietz and Arthur Schwartz Christmas song "Sleigh Bells" for the November/December 2001 issue, again providing a copy of the song which appeared with the article.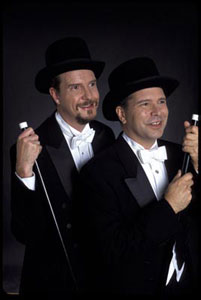 Ben has contributed chapters on Yip Harburg (pdf, 140k) and Ann Ronell (pdf, 196k) to 'S Wonderful! 'S Marvelous!: An American Popular Song Reader, due for future publication.
Ben has written entries on Ann Ronell, Dana Suesse, and Kay Swift for American National Biography (Oxford University Press).
In November 2002 Ben gave a paper, Bing and Fred – A Look at the Brief Partnership of Crosby and Astaire for Bing! Crosby and American Culture, Hofstra University, which has been submitted for publication.
Ben was consulted for the PBS American Masters program Yours For a Song: The Women of Tin Pan Alley.
In 2008 Ben & Brad wrote an article, Reconstructing Lost Musicals (pdf, 736k), recounting their work on Irving Berlin's first two shows Watch Your Step, and Stop! Look! Listen!, and his later Music Box Revues, along with their recreation of the Howard Dietz, Arthur Schwartz, and George S. Kaufman classic revue, The Band Wagon. The article appeared in the Volume 10, #3-4 edition of the Music Reference Services Quarterly.
Ben & Brad appear regularly on radio throughout the country. They have been heard nationally on The Connection (originating on WBUR-FM in Boston) discussing Ira Gershwin, Fred Astaire, and Sir Noël Coward.
Read about Ben and Brad and the Hundredth Birthday Celebration for "Alexander's Ragtime Band" in The Jewish Advocate (pdf, 56k) and Boston Spirit (pdf, 372k).
---