Ben & Brad - Biography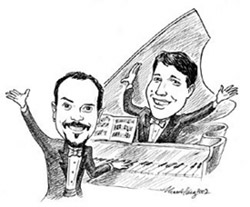 Benjamin Sears & Bradford Conner have been performing together since 1989. They are among those rare performers who combine entertaining performances with outstanding historical research and who can claim Irving Berlin and George & Ira Gershwin premieres. In 1997 they made music history with Oh Kay, Oh George, a first-time concert pairing of songs and music by romantic and musical colleagues Kay Swift and George Gershwin, featuring many rarely heard Swift songs along with premieres of two unpublished George & Ira Gershwin songs. Their reputation as Gershwin performers was honored by the selection of their recordings to be part of the Interactive Kiosk at the new George & Ira Gershwin Room at the Library of Congress.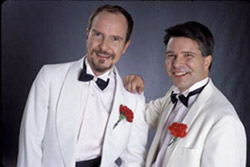 Sears and Conner are the first cabaret act to be featured at Boston's Emerson Majestic Theatre, and at Boston's Wang Centre for the Performing Arts they revived a show-biz tradition by presenting a pre-show concert of Irving Berlin songs for a showing of Berlin's classic film, White Christmas. Other appearances include the Mabel Mercer Foundation Cabaret Convention (Town Hall, New York City), Don't Tell Mama (New York), The Gardenia (Los Angeles), the International Fringe Festival (Orlando, Florida), Cabaret at Windows (Washington, DC), the Chicago Public Library (Chicago, IL), Scullers Jazz Club (Boston), the Upstairs at the Pudding Cabaret Series (Cambridge, MA), Club Cabaret (Boston), Clark Art Institute (Williamstown, Massachusetts), Mechanics Hall (Worcester, MA), and at colleges, concert series, and other venues throughout the Northeast. In June 2008 they made their European debut with a closing day concert in the historic Holywell Music Room for Fred Astaire – The Conference held at Oriel College, Oxford University in June, 2008 and attended by Astaire's daughter Ava Astaire McKenzie. In September 2011 they performed on the concert series at the American Cathedral in Paris, France. With members of American Classics they sang the National Anthem at the second game of Fenway Park's one hundredth birthday season in 2012. On radio they have appeared as performers on MusicAmerica (WGBH-FM, Boston), The Jazz Songbook (WGBH-FM), Standing Room Only (WERS-FM, Boston), Second Stage (WMBR, Cambridge), WICN-FM (Worcester), WBET-FM (Brockton), Curtain Up (WDVR, New Jersey), and on the nationally syndicated The Connection (WBUR-FM, Boston) as commentators on the Gershwins, Noël Coward, and Fred Astaire. In 1999 they joined forces with voice and piano duo Valerie Anastasio & Tim Harbold to create and tour a Noël Coward centenary program, Noël and Cole – Together With Music. In 2001 they created a new show, Fred & Ethel – Great Songs of Astaire and Merman.
Ben & Brad have participated in conferences on Broadway, Hollywood, and the Great American Songbook. In 2002 Ben gave a paper on Bing Crosby and Fred Astaire for Bing! Crosby and American Culture at Hofstra University. Ben & Brad returned to Hofstra in 2003 as performers for the conference The Broadway Musical – 1920-2020, a highlight of which was performing Irving Berlin's "Mandy" with Ziegfeld Girl Doris Eaton Travis, who had danced it in the original Ziegfeld Follies of 1919. In 2011 they returned to Hofstra with Valerie & Tim with a program of Irving Berlin songs from the 1930s for the conference 1935: The Reality and the Promise.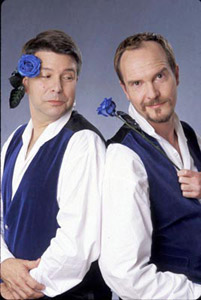 Sears and Conner are Producing Directors of American Classics and are founding members of the Boston Association of Cabaret Artists (BACA), an organization promoting awareness and performance of cabaret in the Boston area.
Sears & Conner are known for their research in the music and lyrics of Tin Pan Alley, Broadway and Hollywood. In 1996 they rediscovered a long-lost Irving Berlin song from 1916, "Santa Claus: A Syncopated Christmas Song," which they subsequently gave its modern premiere and first recording. During their search for the Berlin song they also found an unknown Jerome Kern tune, "A Syncopated Christmas Carol," which they also premiered and recorded. Other research has led to the creation of a program of songs by "Girl Gershwins" including Dana Suesse, Kay Swift, and Ann Ronell.
Their expertise on cabaret and popular song led to an invitation to be guest commentators for a special cabaret program of the AEI In-Flight entertainment, Overture, heard on USAirways domestic and international flights during May and June, 1999.
Ben's first book, The Irving Berlin Reader was published by Oxford University Press in April 2012, and Brad is editing the new edition of the classic American Popular Song, 1900-1950 by Alec Wilder.
Ben & Brad have had many "firsts" - see them here!
Shows by Ben & Brad
EASY TO REMEMBER - Ben & Brad Sing Bing
MUSIC IN YOU - A Richard Rodgers Cabaret
FOLLIES, SCANDALS, AND OTHER DIVERSIONS - The Classic Broadway Revues
TOP HAT - Songs of Fred Astaire
NOËL & COLE - TOGETHER WITH MUSIC - with Valerie Anastasio & Tim Harbold
FRED & ETHEL - GREAT SONGS OF ASTAIRE AND MERMAN - with Valerie Anastasio & Tim Harbold
THE GERSHWINS - Lyrics by Ira Gershwin, Music by George Gershwin
SWEET AND LOW DOWN - Songs by George Gershwin
DELISHIOUS - Lyrics by Ira Gershwin
OH KAY, OH GEORGE - A Salute to Kay Swift and George Gershwin


Created for the 1997 Kay Swift Centenary and the 1996-1998 George & Ira Gershwin Centenaries

COME ON AND HEAR! - Early Songs by Irving Berlin
KEEP ON SMILING - Songs by Irving Berlin,1915-1918
BEYOND THE RAINBOW - Lyrics by E.Y. Harburg
WHISTLE A HAPPY TUNE - A Tribute to Gertrude Lawrence
THE GREAT ZIEGFELD - Glorifying the Great Glorifyer
SONGS OF LOVE AND WAR
SMOKE GETS IN YOUR EYES
GRANDFATHER'S CLOCK - A Musical Entertainment
REST YOU MERRY - A Holiday Cabaret
GIRL GERSHWINS - A Celebration of the Women of American Song
TAKE ME OUT TO THE BALLGAME - Saluting our National Pastime
SONGS OF THE SILVER SCREEN - Favorites and rarities from the movies
Biography | Firsts | Back to Top
---